Michael Herrmann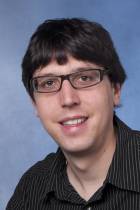 Michael Herrmann
Alumni
Technische Universität München
Department of Computer Science
Informatik 9
Boltzmannstrasse 3
85748 Garching
Germany

Fax: +49-89-289-17757
Office:
Mail: michael.herrmann@tum.de
About
I received my diploma degree in computer science with emphasis on artificial intelligence from the Julius-Maximilians-Universität Würzburg in 2007. From 2007 to 2012 I was working as a software engineer for industrial computer vision systems in the private sector. Additionally, I was a research assistant at the Hochschule Rosenheim from 2010 to 2012. Since 2012 I am part of the research group Image Understanding and Knowledge-Based System at the Technische Universität München headed by Bernd Radig. My research interests include computer vision, machine learning, and especially the detection and tracking of objects in videos.
Projects
I am currently working on the following research projects:
We are permanently looking for motivated students to participate in our projects (e.g. in the context of a student's thesis). If you are interested please feel free to contact me.
Publications
Journal Articles
2015
Real-Time Segmentation Methods for Monocular Soccer Videos

,

In Pattern Recogntion and Image Analysis, To appear

, 2015. [bib]
2014
Automatic Generation of Image Analysis Programs

,

In Pattern Recognition and Image Analysis

,

Pleiades Publishing

, volume 24, 2014. [bib] [pdf] [doi]
Online Multi-player Tracking in Monocular Soccer Videos

,

In AASRI Procedia

, volume 8, 2014. (2014 AASRI Conference on Sports Engineering and Computer Science (SECS 2014)) [bib] [pdf]
Conference and Workshop Papers
2014
Multi Temporal Distance Images for Shot Detection in Soccer Games

,

In EUSIPCO 2014 (22nd European Signal Processing Conference 2014) (EUSIPCO 2014)

, 2014. [bib] [pdf]
Human Body Part Classification in Monocular Soccer Images

,

In 9-th Open German-Russian Workshop on Pattern Recognition and Image Understanding

, 2014. [bib] [pdf]
2013
Real Time Soccer Field Analysis from Monocular TV Video Data

,

In 11th International Conference on Pattern Recognition and Image Analysis (PRIA-11-2013)

,

The Russian Academy of Sciences

, volume 2, 2013. [bib] [pdf]
Automatic Generation of Image Analysis Programs

,

In 11th International Conference on Pattern Recognition and Image Analysis (PRIA-11-2013)

,

The Russian Academy of Sciences

, volume 1, 2013. [bib]
Last edited 12.01.2015 09:30 by Michael Herrmann
Druckansicht